Reducing operational risk, improving reporting & compliance and bringing operating costs down are some of the most important challenges faced by organisations across the biomass-to-bioenergy supply chain.
The supply chain can be long and complex, incorporating producers, processors, traders and energy generators who all have different risks to manage and different reporting requirements. These organisations may all be part of the same supply chain, but they all require different functionality to truly get the most from commodity management technology. And to add more complexity, many organisations are already using technology such as an ERP or ETRM that they are happy with for part of their processes.
This is why Gen10 apps are designed to solve specific challenges and integrate via API with each other and other technology to create a collaborative technology ecosystem. We work with our clients to create a solution based on the capabilities of their existing technology and which apps could add the most value to their organisation. For example, an energy generator may already be using an ETRM for their electricity contracts but would benefit from more efficient automated physical commodity management technology.
Some of the advantages of using Gen10 apps to solve issues around risk management, reporting and other challenges prevalent in the biomass supply chain are listed below:
Trade.Counter
Use this app to:
Transform your procurement process. Communicate price levels, invite offers and close deals with suppliers. With our responsive design, we bring procurement to your mobile device too. If you are the supplier, you can transform your sales process to a state-of-the-art online marketplace giving you a broader reach to your potential client-base.
Results you can expect are:
Faster trading cycles and the ability for your team to easily conduct pre-trade activity on-the-go. You can also gain greater visibility of offer/bid activity across your organisation, both for better reporting and compliance, and to help teams involved in negotiations create better deals through a greater awareness of real-time price trends.
Trade.Counter can also be integrated with technologies including CTRM, ETRM and ERP systems to accelerate transactions and reduce operational risk. Once the trade has been confirmed in Trade.Counter the information can automatically appear in your contract management system; meaning faster, safer contracts – less typing, fewer copying errors and less risk of disputed or late agreements.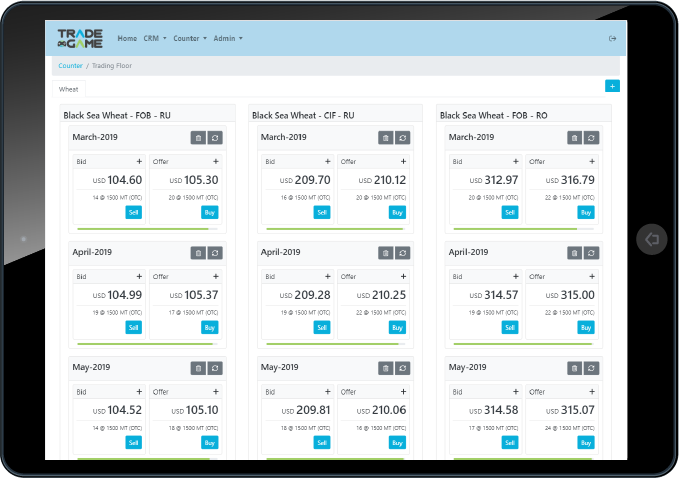 Contract.Manager
Use this app to:
Automate contract and document creation, providing digital processes and controls for every trade. Contract.Manager gives you a complete audit log of every action taken against each trade, pre-approved contract templates and a greater view of organisational data for better risk management, reporting and optionality.
Contract.Manager includes biomass-specific functionality such as stock burn down rates and automatic metric ton to net calorific value (NCV) conversions. Trading tools including instant MTM and P&L reports as well as complete position visibility including by locations and counterparties.
And for Logistics, multiple assay tables allow you to control the different stages in processing, operations and transport, with integrations to inspection software, alerts if assays are outside your tolerance and the ability to instantly update invoicing as a result of assay changes after an inspection.
Results you can expect are:
Reduced operational risk and faster trading, with fewer typing errors, fewer omissions and less time spent on administration, audit, reporting and fixing errors.
Trading, Procurement and Operations teams have the information and position visibility they need to carry out their day-to-day activities faster and with more opportunities to create value from each transaction.
Corporate governance can be improved as all actions can be completed from within the system, including generating and sending documents to external partners. You can also take a more proactive approach to risk management by including controls such as pre-approved contract templates and processes that automatically send contracts to managers for approval.
Improve your vendor management processes with Know Your Counterparty (KYC) functionality including credit lines that update throughout the day and can be checked by traders before initiating trade activity for a fast, unambiguous approval process.
Supply chain transparency is improved, with simple document management and controls on shipments being sent without mandatory documentation. Internal processes are also improved, with greater data visibility and a clear audit trail of every action undertaken on every trade.
Your business can benefit from improved asset turnover and greater scalability, whilst also improving control, compliance and risk management.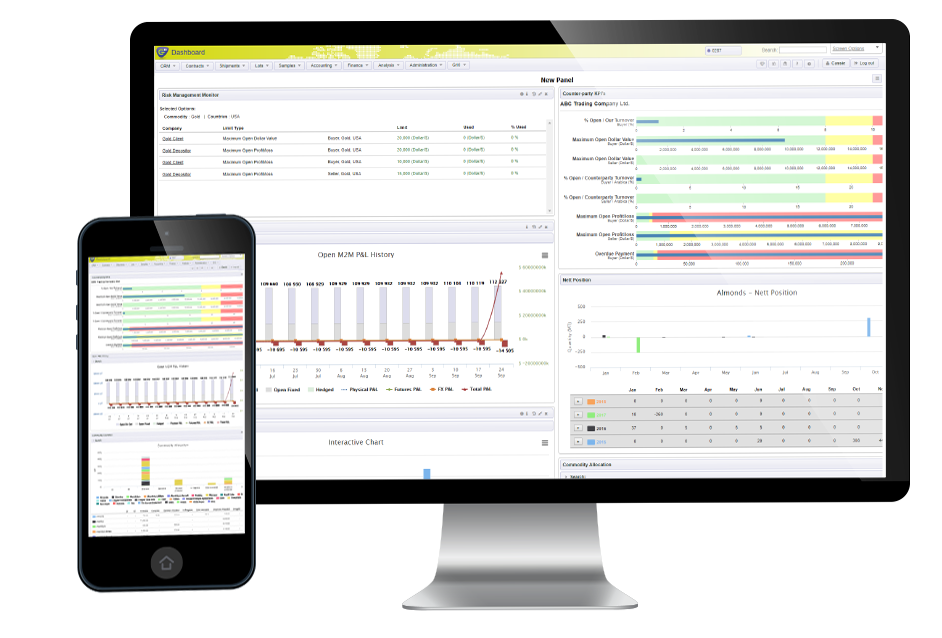 Aud.IT
Use this app to:
Improve supplier audit, due diligence and data collection processes. This mobile-friendly app can be used as a stand-alone solution or integrated with other apps to improve your audit and KYC data. Create surveys and KPIs that your team or trusted suppliers can complete and upload supporting evidence for. With offline capability for remote areas, this app reduces the need for paper site audits and their associated risks.
Results you can expect are:
Faster and more complete traceability data, for improved corporate governance and a process that supports better regulatory compliance. Aud.IT can be integrated with your commodity management technology to improve vendor management and provide an easily auditable record of when surveys were completed, who by and all supporting documentation. You can also integrate Aud.IT with your business intelligence and data analysis tools to quickly gain insights from your reports. Aud.IT is designed to give your surveys and audits greater scalability, flexibility and lower the time and cost associated with audits and inspections.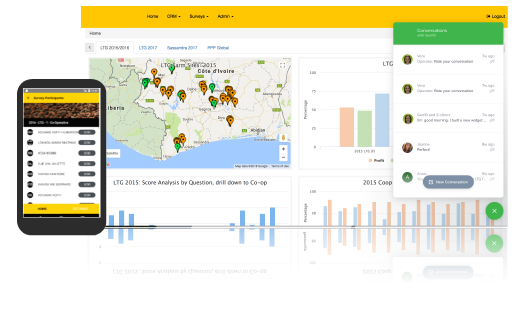 Any offline processes your business relies on introduce more operational risk and a higher workload when it comes to reporting and compliance. Digitalising these processes not only improves risk management, it can also reduce the time individuals across your organisation spend on reporting and could even reduce the level of substantive evidence needed during an audit.
The real advantage of commodity management apps is that these solve specific challenges; you can digitalise and accelerate the processes that are introducing risk into your operations without disrupting the operations that are adding value to your organisation. And rather than introducing more tasks for your people to complete, the right commodity management apps improve risk management and reporting whilst still reducing your teams' workload.
If you enjoyed this article, you may also be interested in this eBook exploring the benefits of commodity management technology in biomass procurement.
Subscribe now for monthly updates
By submitting your details you agree that we can store your data and communicate with you. You can opt out of these communications at any time. Read all in our Privacy Policy.