Traceability and provenance are of growing importance across all commodities, no longer confined to select agricultural products and luxury goods. Scrutiny from legislators, regulators, consumers and auditors are continually adding new challenges and complexity to demonstrating a product's provenance: with CO2 emissions and carbon offsetting being added to concerns such as food safety, workers' rights, deforestation and more.
Increasing regulation means that traceability initiatives are moving away from being a competitive advantage that satisfy consumer demands for ethically-sourced products, and are now playing a core role in commodity risk management. And the sustainability agenda is being driven from within the industry as much as from consumers, such as through Corrie MacColl's sustainable rubber agenda. There is also growing self-regulation amongst the metals industry, a commodity not traditionally associated with traceability, with the announcement that the London Metals Exchange (LME) will only allow responsibly sourced metals from 2022.
National legislation in different jurisdictions can also impact a wide range of commodities. To take the UK as an example, under the 2015 Modern Slavery Act, all large businesses in the UK must produce an annual statement setting out the steps they have taken to prevent modern slavery in their supply chain. Even those organisations who are not directly impacted by this legislation will therefore likely be involved in supply chains with customers who have a legal duty to improve traceability.
Improving traceability
Whether the drive to improve traceability comes from within or from external stakeholders, the message is clear – traceability is crucial. As well as ensuring compliance with regulation, it provides brand protection; allowing businesses to be proactive in tracing any low-quality or unethically produced product (e.g. using child labour) to the supply, and visibly rectify the situation. And consumer demand means that traceability could become an important differentiator for competitive commodity businesses in the near future.
The complexity of supply chains means that traceability is an ongoing process of improvements; within organisations and across partnerships. It requires collaboration to be a success. After all, if a supplier has provenance information but makes a mistake when providing it, the rest of the value chain will be affected.
The good news is that commodity management apps provide a way for you to make these ongoing improvements in a way that minimises disruption to your wider business processes, saves times and improves governance:
Supplier audit
If you work directly with producers, no matter the commodity, audits can be challenging. Areas of limited connectivity make paper-based audits common; leading to delays in receiving vital information, the risk of copying errors and lost, incomplete or illegible documents.
The Aud.IT commodity management app was created in collaboration with an inspection company used to these challenges to provide a faster, more accurate way to perform due diligence. Use the web app to create the questions you need to address and define any supporting evidence you require. An agent or inspection company can use the web or mobile app to complete the questions on-site and attach any evidence such as photographs. The device's GPS location can be used to confirm the site visit. And if the site has limited Internet access, the survey responses can be saved locally and uploaded when the inspector has access to WiFi.
Because the records are created and stored digitally, there is no risk of data being copied incorrectly when being transcribed and it is available to all who need it as soon as it is uploaded, unless you also have an approval and verification stage. The digital records also create a complete change log, giving you a complete audit history of any corrections or changes that are made to your information and when.
Deal capture
When buying from smaller suppliers or those in remote regions, there is again the challenge of record-keeping; ensuring any paperwork is accurately matched to goods and communicated across the business. The Trade.Counter app can be used to easily create an electronic record of purchases when working with smallholders or other suppliers, amongst many other deal capture uses. The app integrates via API with any other commodity management software you use so that the provenance of each lot within your system is accounted for without any copying or repeated data entry.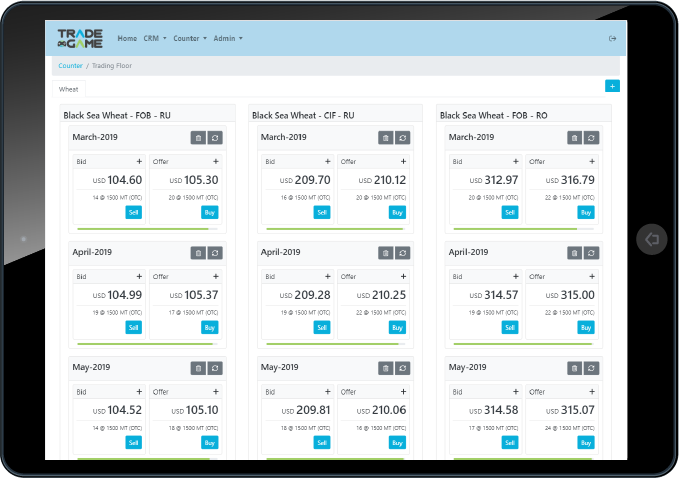 Trade.Counter using a tablet
Provenance certification management
Having all the sustainability certificates and proof of origin documents for a shipment from a supplier is only half of the challenge – you also need to provide these to buyers, and may need to prove that your processes for doing so are reliable. If you manage part of your trading or logistics operations offline or via spreadsheets, managing these documents can be time-consuming and prone to errors.
Gen10's Contract.Manager app not only makes document management easier, it reduces the overall administration and complexity that procurement, sales and trading teams face on a daily basis. Contract.Manager can be used as a stand-alone app, as part of Gen10's Commodity.Manager CTRM or as an integrated addition to your own CTRM, enhancing its functionality and ease of use.
The app gives you visibility over counterparties, contracts and documents, but also uses automation, calendars and reminders to make contract management easier and demonstrate compliance with your processes. Each approved counterparty is listed in the app, along with any sustainability information, with the ability to add reminders so that expiry dates are not missed. The document management features also mean that once a document has been uploaded, it is available to all who need it – at any time and on any device.
Contract.Manager uses automated workflows to progress contract creation. These workflows might include sending contracts to a sustainability or CSR representative for approval before further processing. The virtual lot allocation allows you to easily show who any given stock was purchased from and sold to, even if these lots have been split or blended. Automated checks and controls can then prevent shipments being sent without all mandatory documentation, including sustainability certificates.
If your organisation is improving traceability processes or rolling out wider provenance and monitoring procedures without the technology in place to support them, this can cause an increase in administration for already busy colleagues and make buy-in more difficult to achieve. However, commodity management apps not only make it easier for procurement teams, traders and operators to manage their traceability obligations; they also make their day-to-day tasks easier by automating manual processes, reducing administration and providing all the information they need at any time on any device.
Traceability and provenance can be essential tools to protect your brand and can provide a competitive advantage to many businesses now and in the near-term. Looking towards the future, traceability is moving away from being a nice to have and becoming a must-have, where only the best processes will confer a competitive advantage. Now is therefore the time to begin planning for the future of commodity traceability and provenance, to ensure we are meeting the expectations of all our stakeholders, and to embed traceability as a strategic business advantage.
Subscribe now for monthly updates
By submitting your details you agree that we can store your data and communicate with you. You can opt out of these communications at any time. Read all in our Privacy Policy.