The art of commodity trading requires both skill and expertise to manage a wide range of exposures and then adapt to changing market conditions whilst employing an overall strategy for success. Position visibility is a crucial ingredient in this success. Each additional piece of information available to you in the moment provides additional optionality, and it is this optionality that allows you to innovate and succeed. At Gen10, we help you visualise positions like never before so that you can be creative and innovative in your trading.
Having the relevant information to hand as new opportunities present themselves means you have the power to take advantage of these opportunities as they arise and can react faster to changing circumstances. For example, when selling a given shipment to a buyer, if the opportunity to buy the same grade with a greater discount or reduced shipping cost arises, having full position visibility allows you to respond with greater creativity and agility. Matching the purchase and sales contracts that will provide maximum value and making quick adjustments is simple when you have visibility of all positions at all times. And depending on how you choose to set up your system, you can even make this position data available in real-time across your entire organisation.
Real-time reporting within Gen10's commodity management apps helps traders perform better in their day-to-day activities. The system provides the information you need at any given moment to maximise the value of every trade, from instant visibility of a buyer's credit line to an automated P&L sheet generated as soon as your contracts are allocated – with no more waiting for end of day or month reports.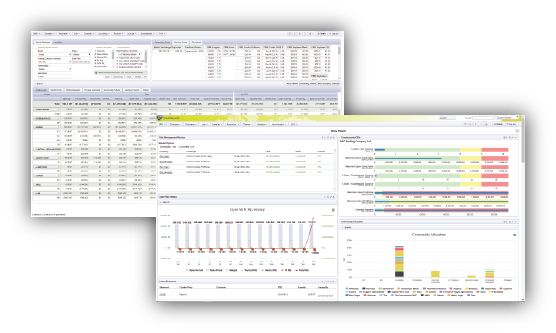 We collaborate with industry partners and focus on improving day-to-day operations to create our technology, which means that with a Gen10 solution, you have a powerful resource to capture and analyse not only commodities, but also attributes including grade, shape, location and more. Having this level of detail within your CTRM also allows you to create pricing strategies and buyer optionality that take these variables into consideration.Functionality includes the ability to add premiums or discounts based on these variables, and for concentrates you can automatically calculate refining charges based on your own treatment charges and pricing formulae. Combining this advanced pricing, logistical capability and cross-organisational data, you are able to fully capitalise on global optionality, adjusting shipments, pricing and more to derive maximum value.
For example, if you have a large shipment scheduled between 2 ports, you can capitalise on the reduced freight costs this will create for smaller contracts in these locations and add location discounts to the commodity travelling to/from these ports. Your team may also choose to share freight information without disclosing any deal-specific information to increase margins on a broader number of combined freights. Making the best use of the position data available therefore presents the opportunity to deliver a logistics strategy that supports and improves your trading strategy, opening up new cost-saving and profit-creating channels.
Capturing positions in the detail Gen10 technology makes possible does not only improve position visibility for data that has been input, but it is used to calculate a range of other metrics to give a greater overall picture and highlight areas where you can improve further. For example, if you are matching a wet purchase contract to a dry sale contract, the system will automatically adjust the valuation and price accordingly, with P&L reports also adjusted.
And when it comes to auditing and reporting, we provide a wide range of tools that help you improve business processes and create better value from trades, including reports comparing actual costs and P&L against estimates. You can also break these reports down by each buyer/supplier for an actionable report that shows the most opportune areas to invest in when cash reserves are low. With flexible reporting tools, custom dashboards and integrations with external reporting software, you can report on any data within the system, from position changes over a time period, to late payments. You can also check for stock that has not been allocated to a contract, and use maps to view global position data in real-time.
The only way to have agility and optionality in every trade is to have complete, readily accessible position visibility. The real-time reporting and flexible position views created by implementing a Gen10 solution that can integrate with your other systems is invaluable in today's trading environment where marginal improvements can make all the difference. For both refined metals and concentrates traders, a solution that provides full position visibility, and the ability to create optionality from the data at hand, is an invaluable tool that allows you to develop the strategy you need to succeed.
If you enjoyed this article, you may also be interested in discovering how we created a CTRM solution that powers digital transformation for both refined and concentrates traders.
Subscribe now for monthly updates
By submitting your details you agree that we can store your data and communicate with you. You can opt out of these communications at any time. Read all in our Privacy Policy.