Earlier this month, Gen10 representatives joined a record number of energy trading and operations experts at ETOT 2019, Europe's leading operations and technology summit. The key takeaway from both Gen10 CEO Richard Williamson's panel and the summit in general, was that collaboration and standardisation are crucial for industry progress.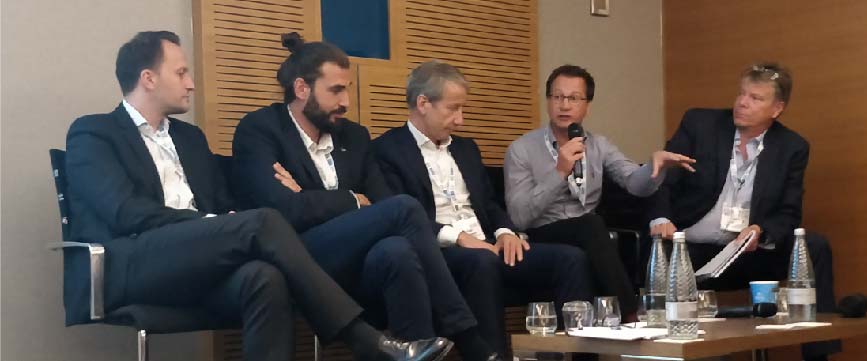 The panel discussing evolution in the ETRM world
The reasons why the energy industry needs digital technology that improves collaboration and standardisation were explored by a range of experts at the conference. They included issues like the growing flexibility of energy markets as feed-in tariffs are replaced by auctions and the rise of smaller connected grids. The energy transition to smaller renewable generating stations and home-based installations such as rooftop solar, means that energy grids and associated companies need to be prepared for these decentralised systems. Other innovations that we can expect include more focus on supply chain optimisation and the ability to track molecules through the entire supply chain. The good news is that digitalisation is giving us both the information and flexibility we need to respond to these trends.
One message that was repeated across many of the sessions was that although digitalisation is an essential part of this collaboration, it needs to be undertaken in the right way. As Ben Hillary of Commodities People put it, we need to be exploring "practical and productive innovation". Digitalisation needs to start with a business problem and find a technological answer; many of us have experienced "innovation fatigue" and less-effective implementations from trying to shoehorn a particular technology into a use case where it does not belong.
Why collaborate?
Several presenters, including LEAP, discussed opportunities for collaboration between organisations and how standardised, digitalised processes create opportunities that no one player can create nor address on their own.
And within your company, digitalisation both drives and benefits from collaboration. One of the key benefits discussed was its ability to bring traders, quants and the back office together with better access to data. Back office challenges were particularly highlighted in a panel discussion on Day One and included the need to add value and partner better with the trade desk: and the solution again was to standardise, integrate and improve processes.
Back offices need flexibility and the ability to handle complexity, meaning it is important that they partner with the business and drive the conversation regarding standardisation and digitalisation. Particularly as an effective back office is an important selling point when looking to attract or retain counterparties.
Alongside the positive outcomes of digital collaboration, there were also some warnings about the perils of not digitalising, and the prediction that less-digital companies will struggle to maintain the edge they have now.
How to begin a collaborative digital transformation
Drawing upon several sessions and the expertise of those who had undergone both successful and unsuccessful digital transformation projects, attendees were presented with several strategies to ensure success.
The biggest cautionary tale that was repeated across sessions was to lay the groundwork before implementing new technology. Standardising information across stakeholders is a big operation but it is important to leverage the different views across the organisation, and this can help generate internal collaboration too. When discussing the benefits, almost all presenters emphasised that fostering engagement involves demonstrating that digitalisation and automation are not designed to reduce headcount, but to enable people to operate more efficiently with fewer administrative tasks.
Panels discussing a wide range of technologies agreed that successful implementations cannot be siloed; you need to work collaboratively with the business as a whole and get the initial standardisation right. When internal processes are standardised and collaboration can occur across teams, digital processes are more likely to be successful in adding value to your business.
Collaborative technology
Collaboration also needs to be applied across technologies to be successful. Presentations discussing ETRM, RPA and blockchain were all in agreement that technology must be collaborative and needs to integrate with other systems to be useful. The panel discussing the ETRM world (featuring Richard Williamson, Gen10 CEO) discussed the advantages of cloud technology such as Gen10's, including the security and scalability this offers.
The panel also highlighted how in today's energy trading environment, organisations need systems integration, continual updates and reliability. They discussed just how complicated existing system integrations can be and how these can make it difficult to replace an ETRM, even when there is a business need for it, leading to ever-more complex offline processes and spreadsheets. When another panel was asked whether ETRMs can handle the anticipated higher trading volume, they answered that they foresee more ETRM outsourcing and increased modularisation of the ETRM offering in response.
ETOT 2019 shows us that digitalisation is high on the agenda across the energy industry, but that we have moved beyond innovation for its own sake. The focus now is on collaboration and standardisation to deliver real business impact and the flexible technology that can help companies compete in the markets of the future. As Richard put it on the day "first you need to apply a collaborative advantage and then you can benefit from a competitive advantage."
Gen10 create cloud-based collaborative commodity management apps designed to solve specific problems energy trading companies face. The flexible apps integrate with your existing technology including ETRMs and ERPs to create a complete commodity management ecosystem that automates processes and leaves your people free to do what they do best.
Subscribe now for monthly updates
By submitting your details you agree that we can store your data and communicate with you. You can opt out of these communications at any time. Read all in our Privacy Policy.