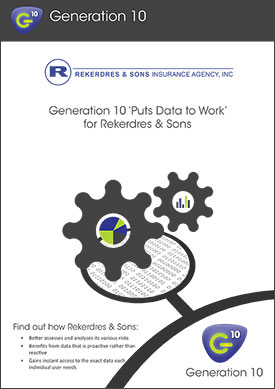 Founded in 1953, Rekerdres & Sons Insurance is one of the world's foremost ocean marine cargo insurance companies.
The Challenge
Rekerdres & Sons needs to coordinate highly complex documentation from a variety of stakeholders, operating on different systems, from across the globe – including several multinational commodity traders. The system needed to be accessible 24 hours a day from anywhere in the world, offer a high degree of collaboration between assureds, surveyors, adjusters, and underwriters, and give Rekerdres & Sons the ability to better assess and manage risk, and assign proper ratings to their clients.
The Solution
The Gen10 Framework gathers hundreds of thousands of transactions from companies all over the world, working on a host of different systems. The information is compiled and normalised in a central location and funneled into a dashboard command-and-control centre that provides instant access to the information most important to the individual user. Generation 10's d3 Analytics are then applied to bring that information to life through its high-level, drill-down approach to visuals.
The Outcome
"Rather than having to ask the system to give me something, it anticipates what I need and presents it to me. Generation 10 has helped usher our company into the age when data works for us, rather than us having to work for the data. The more the system can anticipate what I need and give it to me without my having to spend time looking for it and modifying it, the greater my efficiency is going to be."
– Brett Anderhub, Senior Vice President, Rekerdres & Sons Insurance
Subscribe now for monthly updates
By submitting your details you agree that we can store your data and communicate with you. You can opt out of these communications at any time. Read all in our Privacy Policy.