Commodity supply chains are under pressure. This is nothing new. But what is new is the scale of the challenges the industry is facing and the wide range of factors impacting on global commodities. From political uncertainty regarding trade tariffs, to changing consumer demand patterns and increased global competition, the price pressure is on the industry, who need to maintain their profitability in the face of shrinking margins.
The pressures on profit margins are exacerbated further by increasing compliance demands. Commodity traders' reporting requirements include regulations from MiFID II to commodity-specific legislation such as EMIR and REMIT, but traders are also facing pressure from partners such as banks whose due diligence requirements increase as they themselves face more regulation. These compliance demands mean that trading companies and procurement functions need to maintain records of their supply chain partners and the products they are sourcing in more detail than ever before.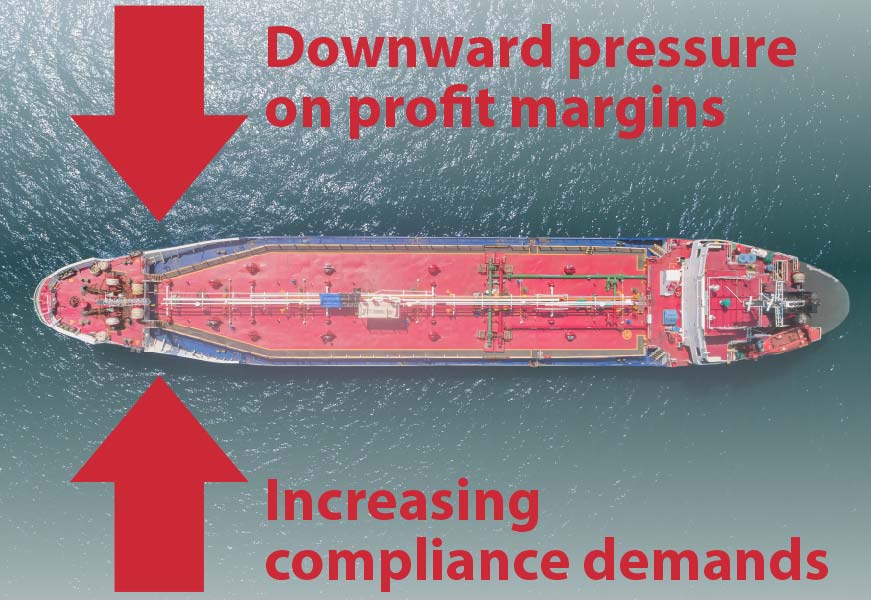 Without the proper processes and support in place, this can result in a heavy manual workload, and can lead to mistakes that erode profit margins or losses that turn a successful trade into a costly mistake.
The combination of tightening profit margins and increasing compliance demands mean that improving efficiency and reducing operational risk are two of the most serious, yet overlooked, challenges facing commodity businesses.
In the past, CTRM technology has not been considered an opportunity to improve operational efficiency, being used as a repository of information about actions that have already been taken and circumstances that have already changed by the time the information is accessed by another person. The advantages of these repository-style CTRMs were discussed in terms of capturing information in one system and recording deals as they progress.
But modern cloud CTRM apps provide far more. Gen10's commodity management apps automate processes to reduce workloads whilst rapidly accelerating operations, reducing risk and giving you the real-time information needed to find opportunities for increasing profitability whilst improving customer service and operational excellence.
Unlike traditional repository-style CTRMs, Gen10's Commodity.Manager app is designed to be used to carry out each action in a trade, from sending the contract to a client to generating shipping documents and invoices, so that it automates and accelerates processes, eliminating the need for traders to copy information on actions they have already taken into the system.
As a result, each trade is carried out faster, leading to better utilisation and turnover of credit lines. It also means there is less risk of errors in copying data, missing documents and of breaching risk management controls as these are built into your automation. Traders also gain better optionality as they have a complete overview of all positions, shipments and logistics information at a glance, meaning that they can refine their strategies to create the most value from every trade.
Modern commodity management apps provide the KYC data commodities businesses need in the most efficient manner, but more than this, they provide the data for supply chain optimisation and operational risk controls that lead to a more resilient portfolio, better-positioned to succeed in times of uncertainty and complexity.
In contrast, repository-style CTRMs were implemented to store data after the fact and report on it, meaning that they are prone to copying errors, missing information and reporting difficulties. Indeed, one report from Booz Allen Hamilton found that AML Analysts spend 75% of their time collecting data. Now, using commodity management apps, traders and operations teams no longer need to copy data into reports and risk managers have access to the information they need in one place when they need it – without waiting for end-of-day reports. In a modern CTRM ecosystem, risk management becomes proactive, with the tools and processes to prevent errors and risk policy breaches before they occur.
When we consider the impact on operational risk, customer service, turnover and profitability of a modern CTRM app ecosystem, the results speak for themselves. With CTRM apps that can provide tangible business improvements, there is no place for repository-style CTRM systems in today's commodity supply chains.
Read more

If you found this article interesting, you may also like to explore the 7 major ways these legacy CTRM systems need to adapt to new market needs.
Subscribe now for monthly updates
By submitting your details you agree that we can store your data and communicate with you. You can opt out of these communications at any time. Read all in our Privacy Policy.