In both personal and business environments, cloud computing is already everywhere. If you have watched Netflix, asked Siri a question or played music on an Amazon Alexa device, you have taken advantage of the speed and flexibility of cloud computing. The cloud offers businesses many benefits compared to traditional, on premise IT solutions, including scalability, business continuity and more flexible access.
In the commodities industry, the power of the cloud has been proven during the disruption and lockdowns of the Covid-19 pandemic. Organisations using cloud technology had many business continuity advantages, including the ability for all system users to securely manage their work from anywhere. There is now a greater interest than ever in cloud CTRM technology, as the need to access systems and keep data flowing smoothly in real-time remotely and during unexpected events has proven critical for business success.
Yet despite these (and other) benefits, not all CTRM providers offer a cloud solution.
What is a cloud CTRM?
Services delivered via "the cloud" are online, meaning you don't need to invest in expensive on-site infrastructure such as servers to maintain your software. Because your technology is hosted on the cloud it requires little to no maintenance from you and is easier to update, meaning you get access to the latest version of the software faster.
A cloud CTRM is a commodity trading and risk management system that is hosted in the cloud. As well as providing the standard benefits and cost efficiencies of a cloud solution, a CTRM that is cloud-based often means you are benefiting from a more modern system. Many CTRM providers have been using the same technology for many years, and whilst this can be updated to an extent, older technology can't be moved to the cloud without serious and comprehensive modernisation.
How do I know if a CTRM is cloud-native?
Because cloud technology offers so many benefits, many vendors claim to offer CTRM in the cloud, but not all "cloud" CTRMs are equal. A cloud-native CTRM is built specifically for the cloud and allows you to take full advantage of all the benefits the cloud offers. This is in contrast to some other "cloud" technologies where vendors have taken their older systems and simply added a new interface that allows you to access the system using a web browser, but the underlying legacy technology means that you will not get the full advantages of a true cloud solution.
Another issue is that some "cloud" solutions are not necessarily hosted on a true cloud, meaning you may not be getting the infrastructure or modern technology you expect. If your CTRM provider is hosting your software on their own servers and calling this a cloud solution, you may not have the same flexibility, scalability and reliability of a true cloud, and you might also be paying more for it.
One way to know if a CTRM is truly in the cloud is to ask the provider where they host their CTRM, and what other hosting options are available. For example, Gen10's CTRM and commodity management apps are hosted on AWS, Amazon's global cloud, because of its reliability, security and performance. AWS allows each of our international clients' offices to use the best data centre for them, meaning global enterprises are not limited by the location of their technology provider. Gen10 solutions can also be deployed on other clouds such as Microsoft Azure, or can be deployed on your own premises if needed.
Or, if you don't want to speak to vendors, their website may give you an indication of the technology they use. For example, Gen10 are clear in telling people that we use the AWS cloud on our website, but other indicators that our technology is likely to be cloud-native include the fact that it can be accessed securely from anywhere, including on mobile devices. Another indication is that Gen10 provide more than simply a CTRM, our apps enable you to create a connected commodity management ecosystem; taking full advantage of the scalability, collaborative power and flexibility of the cloud.
Is cloud technology secure?
One of the benefits of using a large cloud like AWS or Azure is their investment in data security. These providers rely on the absolute security of their networks and invest heavily in the people, technology and processes to keep them ahead of the latest cyber security threats. And the scale of these operations (AWS has over 1 million business users) means cloud providers can invest more heavily in cyber security than any one of their clients could.
Cloud security is considered so reliable, Gartner predicts that until 2022 at least 95% of cloud security failures will be attributable to user error. Security issues caused by user error are not inherent to the cloud and could equally occur on a legacy platform, eg poor password management or insecure APIs.
And in many respects, cloud technology means that when things do go wrong, the results are not as disastrous for business continuity. For example, if a laptop is lost or a server is damaged in a fire, any data stored in that location is lost to the business, but a cloud solution has many servers and data centres, meaning that one damaged location doesn't cause the same (if any) disruption, and your data is still available.
What are the advantages of a cloud CTRM?

A cloud CTRM is mobile and global, lower cost, secure, collaborative, resilient, scalable and less stress. Explore these benefits in more detail in the infographic below: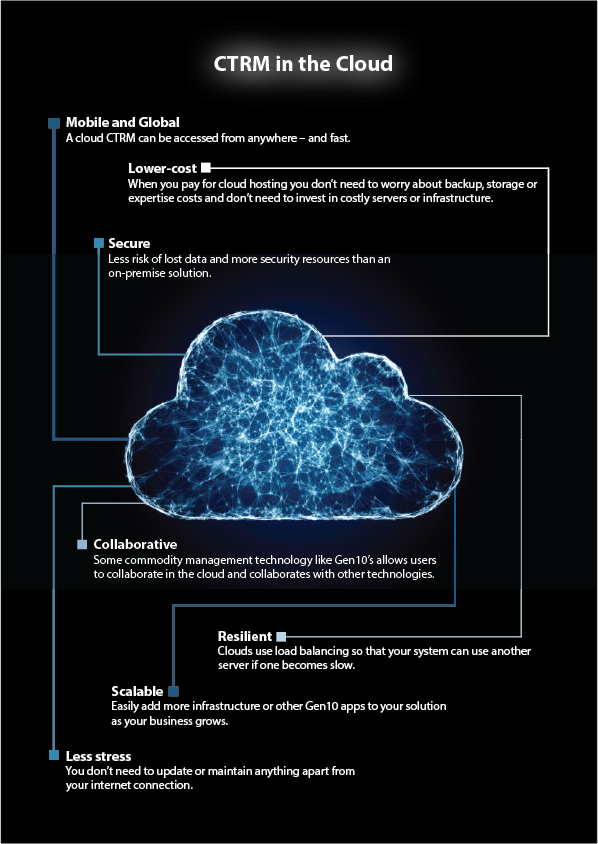 Subscribe now for monthly updates
By submitting your details you agree that we can store your data and communicate with you. You can opt out of these communications at any time. Read all in our Privacy Policy.