In commodity markets in general and biomass in particular, change is the only constant. With pressures on margins, tighter and more comprehensive legislation and faster trading, to name a few challenges, companies, their business processes and systems, need to be agile and that agility needs to be embedded across the organisation as well as the wider supply chain.
What is business agility?
There is no one accepted definition of business agility; its role and purpose can be defined differently depending on who is asked, and whether they are referring to IT, business, supply chain or other forms of agility. The common goal of any business agility initiative is the ability to respond better and adapt faster to change – a concept that trading organisations are all too familiar with.
Traders are already expert at analysing data, making quick decisions and reacting quickly to make the most out of opportunities as they arrive, but a quick trade desk alone does not confer organisational agility. A trader could discover an opportunity for a profitable deal but if the counterparty's sustainability certificates have not been updated internally, or the market has already moved by the time the contract is approved, the opportunity may be lost due to a lack of business agility in this area.
Information therefore needs to be communicated with the rest of the organisation and partners in the value chain with speed and accuracy to power business agility. True business agility means the entire organisation is able to come together to move in the same direction, and to respond large, systemic changes not only day-to-day variations such as market moves.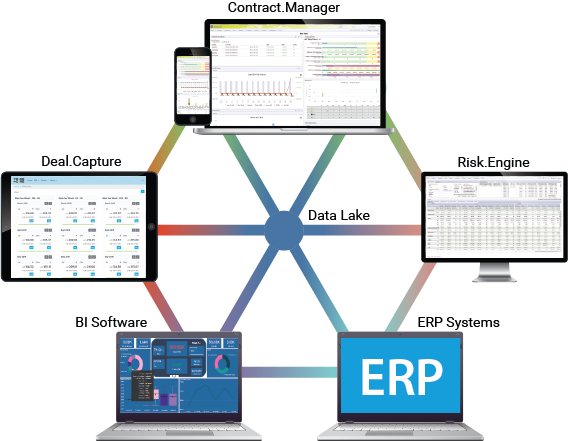 Information only supports agility if it is shared
amongst all who need it
Business agility is as much about the organisation-wide systems and processes that support an agile mindset as it about the tactics and individual actions, so we cannot simply assume that trade desks are agile but held back by the rest of the organisation – particularly if their current working practices include points of friction with middle- and back-office functions.
How to become more agile
To become agile, businesses need to develop capabilities in several core areas:
Data visibility
Interfunctional coordination
Swift, decisive action
Any one of these capabilities alone will not provide business agility; for example, taking decisive action based on out of date or incorrect information (such as pricing, counterparty credit limits or certifications) can create huge risks and losses for the business. Or giving traders real-time market information without accelerating information flows between teams and approval processes limits the impact of this initial improvement in data visibility.
There are a range of technologies that can help commodities businesses become more agile, including Gen10's apps that provide instant data visibility to all users in real-time and powerful support for interfunctional coordination. The apps also provide the risk management tools and accelerated approval processes that empower individuals to take swifter action whilst still creating a more compliant way of working.
As mentioned above, business agility is as much about organisational culture as it is about the technology that enables it. Even with the benefits that commodity management software can deliver, a technology implementation alone will not convey instant business agility.
To develop the three core capabilities and create an environment where business agility is championed:
Biomass traders need to cultivate organisational agility to maintain their edge in markets that are moving much faster and with tighter margins. Business agility can mean different things to different people, so it is important to unify the organisation's goals and expectations before implementing an agility initiative. And whilst agility involves changing mindsets as well as ways of working, it needs technology to make the process improvements that provide collaboration, data and speed for a truly agile trading organisation.
Subscribe now for monthly updates
By submitting your details you agree that we can store your data and communicate with you. You can opt out of these communications at any time. Read all in our Privacy Policy.