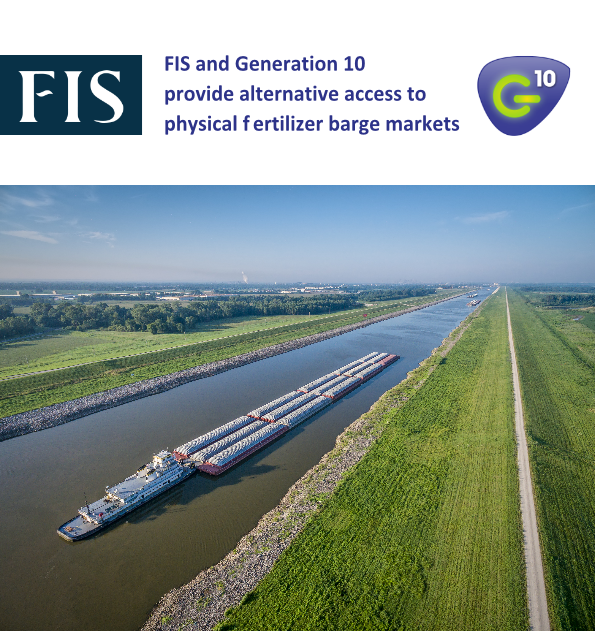 London and Chicago, March 15, 2017.
Freight Investor Services, a global leader in freight and commodity derivatives, and Generation 10, a provider of fintech and commodity supply chain solutions are pleased to announce the launch of a new online trading platform, initially aimed at US physical fertilizer barge markets.
The platform enables traders in the Mississippi River barge markets to post themselves or have FIS brokers post firm bids and offers for physical fertilizer across the most popular NOLA fertilizer contracts. FIS is attempting to improve access to this active physical market.
If you are interested in accessing the FIS Fertilizer screen, please contact:
Steve Jesse (UK office) : + 44 207 090 1122 / +44 7725 264085
Patrick Oxley (UK office) : + 44 207 090 1122 / +44 7889 720076
John Goodhart (US office) : 1 312 612 1996 / 1 203 979 7023
Josh Linville (US office) : 1 312 612 1084 / 1 816 520 6046
ferts@freightinvestor.com
www.freightinvestorservices.com
About FIS
FIS is a leading provider of impartial and accurate risk management advice to customers in freight, steel, iron ore and fertilizer derivative markets and also provides physical commodity and shipbroking services. Founded in 2002, FIS has enjoyed sustained growth in each year of its operation and has expanded via its network of trading associates and branch offices to offer coverage in the United States, UK, Dubai, Singapore and Shanghai. The company is registered and regulated by the Financial Conduct Authority (FCA) in UK.
Learn more about FIS at: www.freightinvestor.com.
Follow us on Twitter: @freightinvestor or www.linkedin.com/company/freight-investor-services
About Generation 10
Founded in 2000, Generation 10 is committed to bringing transparency, sustainability and value to commodity supply chains through data, process and technology.
Subscribe now for monthly updates
By submitting your details you agree that we can store your data and communicate with you. You can opt out of these communications at any time. Read all in our Privacy Policy.